Disclosure: I earn commissions if you shop through the links on this page. I was compensated for writing this article.
So you're starting a small business. Congratulations! One of your first steps is to figure out web hosting. Since every cent matters the most early on, you'll want to get cheap hosting but still make sure it comes with all the bells and whistles.
Here I'm showcasing HostPapa since it fits the bill so perfectly. It's a bit of a bit of a hidden gem; HostPapa is not one of first names that spring to most people's minds out there in web hosting, but it should: it has an excellent reputation in the industry. It also has great customer service and fast speeds.
What to look for in a web host
There are just a few features that you desperately need when starting out (and even when you've grown big enough to upgrade). Surprisingly few hosts offer all these features in combination though, and even fewer of them offer these features at a cheap price point. So this is why I'm focusing on HostPapa, since it hits all the things your small business needs without burning through your precious cash. Their price point is similar or even cheaper to many hosts that don't offer all these features.
Plus if you want HostPapa to just do everything for you, you have the option to get extra add-on services on top of the must-have features, and I'll talk about those extras in the next section. OK, let's move on to the absolute must-have features that any business needs in a web hosting plan:
cPanel - it's a standardized control panel for your website that lets you do things point-and-click, like set up your email accounts, and so much more. Without it, you're going to have to use an FTP client every time you want to upload files (ugh) and type stuff into the command-line to set up email, and it just takes way longer to accomplish anything at all. cPanel is so much faster and easier, and that's what you want when you're starting out.
Softaculous - it's a standardized 1-click software installer. Without Softaculous, you'd have to muck around downloading and installing software from the command-line. Even if installing from command-line not a deal-breaker for you, the major reason I only use web hosts with Softaculous is ease of backup and restore. The real value of Softaculous is in the ability to restore your site in 1 click: no mucking about with backing up databases yourself. For example, in the rare situation where you might accidentally do something that causes a catastrophic loss of your website (yes it can happen!) you can literally restore to your last backup in 1 click. This means virtually no downtime. It's like a "save document" function, but for your entire website, in 1 click. Without Softaculous, you'd have to separately back up your databases and files and hope you know where these are and how to restore each of those if you need them. Softaculous handles the backup of your entire site and keeps track of where it is and will restore it in 1 click. Even though I never thought I'd have to restore from a backup, it's happened: I've managed to screw things up badly enough on two occasions. Trust me, it's a really good feeling to have a built-in instant solution to those problems.
Free SSL - free SSL is a must-have no matter what you're doing. This is not just about the opportunity to save some money on SSL certificates (which by the way can be surprisingly pricey at other hosts). This is about saving time at your end and automating things. At one of the hosts I'm with that does not have free SSL, I have to put in a support ticket each year to get them to renew the SSL certificate. If I don't do that, the browser will give an "insecure site" message to customers looking to browse it, which is obviously a disaster. So, free SSL is not solely a technical bonus or a money-saver, but actually saves you from a PR disaster.
HostPapa has all of the above features in their cheapest shared hosting plans. Shared hosting is usually the best place to start your small business, and then you can upgrade as your site grows.
Full service: where HostPapa stands out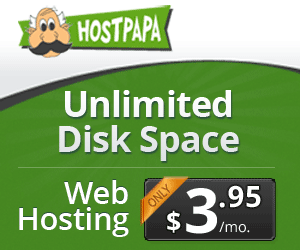 Where HostPapa stands out compared to a lot of other hosts is that they can handle everything else you might need online for your brand, including website design. They also offer customer support in your choice of 4 languages: English, German, French, and Spanish. There are not so many web hosts which do that.
Fully featured plans even at the cheapest level
Even the cheapest plan at HostPapa, called Starter, allows you 2 websites; most hosts limit you to 1 website on the cheapest plan. HostPapa also allows you up to 100 email accounts on their cheapest plan, and all of this costs similar to a cup of coffee a month. If you want to get rid of those plan limits, then you'll want the next level up, the Business plan, for only a little bit extra a month, and you get unlimited email accounts, unlimited websites, and unlimited storage.
On top of all this, you get unlimited bandwidth anyway on all levels of HostPapa's shared hosting plans, which is extremely helpful when you're starting out. That way you won't bump up against some pesky limitation.
White glove services
Do you want them just to "take care of it all?" Then instead of getting one of their regular shared hosting plans that I mentioned above, go for their Managed Shared Hosting. This includes them handling things that are not the host's normal responsibility, such as installing WordPress, Joomla, OpenCart, etc. This plan also includes priority support where you get to the front of the line. Nice.
If you don't want to handle website design, they can do that for you too, through their Do-It-For-Me service. It's more costly than doing it all yourself, but you'll get a professional design done quickly and it saves you the time and hassle of looking for a web designer. Plus, it's worth checking out because it can work out even cheaper than hiring a separate web designer. You can get everything done in-house at Host Papa.
All plans come with basic email included, but you can also choose to get an additional email plan at HostPapa to include all the wonderful extras that you'd want for corporate email. For example, if you want you and your team to have access to the G Suite from Gmail and connect it to your custom domain, then yes you can add G Suite mail from HostPapa. Or maybe you prefer Microsoft 365. No problem! In that case, go for the Microsoft 365 package at HostPapa, which includes the most current version of Office so you never have to worry about upgrade costs. Plus it comes with PapaSquad IT admin support, so having white glove email service gives you that extra peace of mind. You don't even have those options offered at most other hosts.
Conclusion
If you want to have a proper brand image for your new business without costing an arm and a leg, HostPapa is the way to go. They handle things beyond just web hosting. Their full service means that if you need software installation, website design, corporate email features or more; they can do it all in-house. Furthermore, this means you have the convenience and affordability to grow as needed. You can add features on as needed at any time. You're not paying for things you don't need; nor on the other hand are you bumping up against limitations. If you have a startup which needs full service hosting at a cheap price point, HostPapa is definitely a gem worth checking into.
---
Was this helpful?
Would you like to make your own website as a neat side-gig that you can do on evenings and/or weekends? If so, we have a tutorial for you, and it's about how to make a choice of several types of websites. You don't need to blog if that's not you! How about a social network, Q & A site, or forum? Check out our beginner's illustrated tutorial for how to get started making your choice of sites.